About the CTEPH AC Registry
SUMMARY
> About the CTEPH AC Registry
Research Background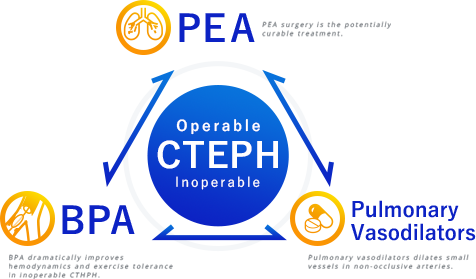 Chronic thromboembolic pulmonary hypertension (CTEPH) is a rare disease (approximately 3,000 patients in Japan), in which organized thrombotic material forms in the pulmonary arteries, impairing the pulmonary circulation.
Several therapeutic approaches are recommended in major domestic guidelines (Class I): these include anticoagulant therapy to prevent the formation and growth of thrombi in the pulmonary arteries; Riociguat administration to dilate the pulmonary vasculature; pulmonary endarterectomy (PEA) to physically remove organic thrombi; and percutaneous balloon pulmonary angioplasty (BPA) to widen stenotic or obstructed vessels to improve the circulation. However, the small number of CTEPH patients means that little empirical data is available supporting these approaches' efficacy and safety, leaving doctors to select treatment plans without strong evidence. Furthermore, a large-scale controlled clinical trial would be infeasible given the tiny population of affected patients. Instead, research must focus on maximally utilizing real-world, observational data to create evidence supporting the efficacy and safety of different CTEPH treatments.
Purpose / aims
This research's purpose is to construct a national registry of CTEPH patients to create evidence for different treatment strategies.
International Standing of the Research
Japan is a global pioneer in CTEPH treatment and care: a nationwide CTEPH registry would be a valuable source of real-world data, including state-of-the-art techniques not seen anywhere else in the world.
Expected outcomes and future prospects
Solid evidence created from a national CTEPH registry would help to optimize the disease's treatment, and provide patients with safe, reassuring, high-quality care based on that evidence.